1000 BOOKS BEFORE KINDERGARTEN: Give your child a head start on literacy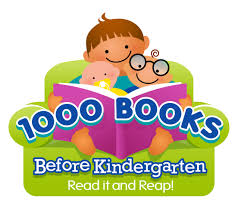 On June 23, 2014 the American Academy of Pediatrics issued a policy statement promoting reading aloud to children on a daily basis, beginning in infancy.  The AAP reports in their statement of need that "reading aloud is one of the most effective ways to expose them to enriched language and to encourage specific...skills needed to promote school readiness."
1 in 3 American children start kindergarten without the language skills they need to learn to read.
Reading proficiency by the third grade is most important predictor of high school graduation and career success.
In contrast to passive or solitary electronic media exposure, parents reading with young children is a very personal and nurturing experience that promotes parent-child interaction, social-emotional development, and language/literacy skills.
Research has revealed that reading regularly with young children (even starting in the womb) stimulates optimal patterns of brain development and strengthens parent-child relationships at  a critical time in child development, which, in turn, builds language, literacy, and social-emotional skills that last a lifetime. 
The 1000 Books Before Kindergarten Program (1000BooksB4K) encourages parents to provide these positive, nurturing experiences regularly.  Not only do the benefits of reading to pre-kindergarten children include long term educational success, but also promotes a lifelong love of books and reading! The 1000 Books Foundation is a non-profit whose mission is to encourage the parent and child bonding through reading.
In an interview, one parent comments that they remember friends who just seemed "smarter" than everyone else.  "Later in life, I discovered that their parents had read to them constantly when they were younger
Not only can you keep a paper log (which you can pick up at the Tucker Free Library or download here), but for the more tech savvy, there is now an iPhone or Android App that will help you keep track of your progress.  
If you don't know where to begin, check out this link.  It gives you seven tips for reading to infants and toddlers. Happy reading one and all!